OPEN MEETING
with Guest Speaker
Phil Kent
Thursday, April 8, 2021
7:00-9:00 p.m.
799 Roswell Street, Marietta
Also available online via Go To Meeting.
(Click on the link above.)
You can also dial in using your phone.
United States: +1 (408) 650-3123
Access Code: 460-720-917
A Legislative Post-Mortem and the Future of the Georgia GOP
Phil Kent reviews what passed and what didn't in the recent Georgia General Assembly session. He'll also talk about the future of the Republican Party in Georgia.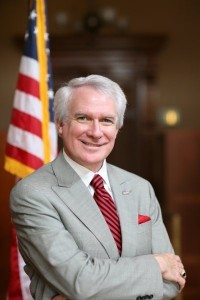 Phil Kent
CEO & Publisher
InsiderAdvantage Georgia & James Magazine
CEO & Publisher, InsiderAdvantage Georgia (an Atlanta-based daily Internet news agency) & James Magazine.
President of Phil Kent Consulting Inc., a public relations/media communications company based in Atlanta, Ga., with clients ranging from major corporations to political organizations.
Regular panelist on Fox5 Atlanta WAGA-TV's Sunday public affairs program "The Georgia Gang."
Former Member, Georgia Immigration Enforcement Review Board (appointed by Gov. Nathan Deal. 2011-2018).
Former president of the Atlanta-based Southeastern Legal Foundation, a constitutional public interest law firm & policy center.
Former press secretary to the late U.S. Sen. Strom Thurmond, R-S.C.
Former editorial page editor and columnist for the Augusta, Ga., Chronicle.
Graduate, University of Georgia's Henry W. Grady School of Journalism, ABJ in Journalism & Mass Communications.
1st Lieutenant, U.S. Army Military Police Corps, Honorably Discharged.
Married to the former Bonnie Lever of Augusta, Ga. One son, Philip Jr. of Martinez, Ga.
Member, Atlanta Press Club; former Board of Directors member and current member of the Georgia Press Association; the Atlanta Chapter, Federalist Society; Board of Directors, The Buckhead Club, Atlanta, Ga.
Member & former Senior Warden, St. Hilda's Anglican Catholic Church, Atlanta, Ga.