The Franklin Roundtable Federal Task Force
welcomes
Suzi Voyles
Candidate for Congress, 
6th Congressional District
7:00-9:00 p.m., Thursday, August 12, 2021
799 Roswell Street, Marietta GA 30060
(2 blocks west of the Big Chicken)
PLEASE RSVP (see below)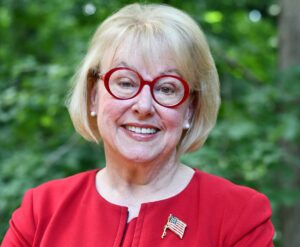 Suzi Voyles, Candidate for Congress, 6th Congressional District
Suzi Voyles is a long-time resident of Sandy Springs, in the heart of the 6th Congressional District. She is a wife, a mother and a grandmother who loves this country and believes that it is time to make some changes in Washington. Suzi believes, as an educator, we need to return to strong academics in our schools and stop indoctrinating our children.
Suzi dedicated 20 years of her life to managing elections and making sure that they were void of fraud and abuse. She believes the people of Georgia deserve someone who will uphold their values and fight on their behalf.
Suzi knows that her faith, strong work ethic, and continued vigilance over our Constitutional freedoms is a matter of stewardship necessary to preserve our liberties.
To join online from your computer, tablet or smartphone,
We will be streaming on Facebook Live. The link above will take you to the Franklin Roundtable Facebook page. Look for the live stream when you reach the page.
(You do not need a Facebook account to view the live stream.)
For those attending in person:
Please RSVP to
Franklin Roundtable is a 501(c)(4) nonprofit organization. Frankllin Roundtable does not endorse or oppose candidates for office.
We encourage each citizen to inform themselves about candidates for public office and support the candidates of their choice.