Franklin Roundtable
in cooperation with the
Cobb County Republican Party
presents
Constitution Day Celebration
Keynote Speaker State Rep. Ed Setzler
"The Role of Government in a Free Society"
State Rep. Ed Setzler
Rep. Ed Setzler is a businessman, veteran, and father of four who has served northwest Cobb County in the Georgia House of Representatives since 2005.  Rep. Setzler is the Chairman of the House Committee on Science & Technology and, in addition to his service in the legislature, is a leader in the architecture/engineering industry, where he has directed nationwide programs for more than 20 years.  A graduate of the U.S. Army Ranger School, Ed earned a Bachelor of Science in Physics from Furman University in 1992 and served as a U.S. Army officer for nine years with leadership assignments in Europe, North Africa, and the Persian Gulf.
Saturday, September 17, 10:00 a.m.
Cobb County Republican Headquarters, 799 Roswell Street, Marietta GA 30060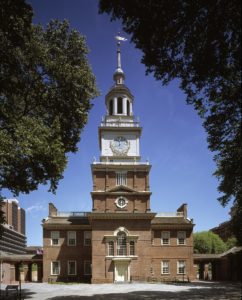 On September 17, 1787, the delegates at the Constitutional Convention, meeting at Independence Hall in Philadelphia, concluded their work and forwarded the Constitution to the states for ratification. The Constitution went into effect in June 1788, when New Hampshire became the ninth state to ratify it. Congress recognized Constitution Day in 1952, and in 2004, Constitution Day was combined with Citizenship Day. Today, the federal observance on September 17 is known as Constitution Day and Citizenship Day.
Join us on Saturday, September 17, to celebrate our Constitution, the freedoms we enjoy and the knowledge we can pass along to the next generation.